Welcome to Morpheus Boutique Pashmina Wholesale Program.
Wholesale Pashmina Scarves Shawls Wraps
Morpheus Boutique Pashmina wholesale program has the largest selection of quality pashmina scarves, shawls and wraps at most competitive wholesale price with largest in stock color selections.
Since 1996, Morpheus Boutique Wholesale Program has been serving many satisfied customers in USA, Canada and Europe.
Please don't hesitate to contact us, if you are interested in reselling our pashmina in your store, online boutique or offering as perfect gifts or favors in wedding , baby shower or other events ,promotion activities.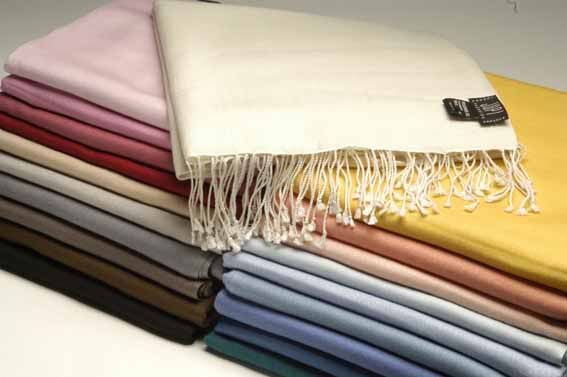 ---
Why purchase from Morpheus Boutique WholeSale Program:
If you have any questions, MorpheusBoutique representatives are always happy to assist you.
Please contact our online representative through live chat.
---
Solid Plain Color Pashmina Cashmere Wool Silk Blend Shawl Wrap Scarf
2011 Solid Color Pashmina Scarf WholeSale Price
| | |
| --- | --- |
| Quantity | Unit Price (USD, Shipping included) |
| 10-50 | $5.99 each |
| 50-100 | $5.29 each |
| 100-500 | $4.99 each |
| 500-10,000 | $3.99 each |
( Note: 2011 solid color scarf wholesale price, price may subjust to change withoust further notice.)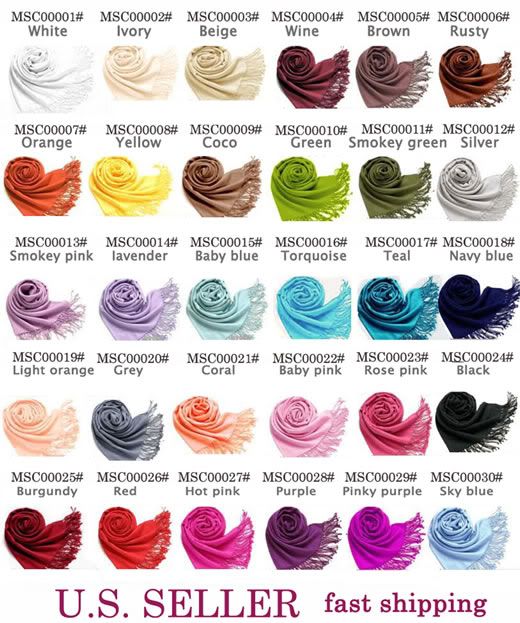 ---
Two Tone Pashmina Cashmere Wool Shawl Wrap Scarf Stole
2011 Solid Color Pashmina Scarf WholeSale Price
| | |
| --- | --- |
| Quantity | Unit Price (USD, Shipping included) |
| 10-20 | $7.99 each |
| 21-50 | $6.99 each |
| 51-100 | $5.99 each |
| 100-500 | $5.49 each |
| 501-1000 | $4.99 each |
( Note: price may subjust to change withoust further notice.)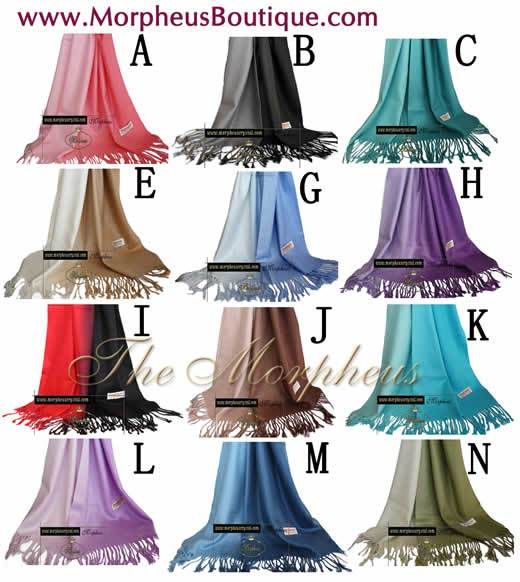 ---
Paisley Pashmina Cashmere Wool Shawl Wrap Scarf Stole
2011 Solid Color Pashmina Scarf WholeSale Price
| | |
| --- | --- |
| Quantity | Unit Price (USD, Shipping included) |
| 10-20 | $7.99 each |
| 21-50 | $6.99 each |
| 51-100 | $5.99 each |
| 100-500 | $5.49 each |
| 501-1000 | $4.99 each |
( Note: price may subjust to change withoust further notice.)