Morpheus Boutique is your one stop source for top-quality fashion products at unbeatable prices.
The Morpheus Boutique began in 1998 with the opening of our first retail store after ten years business in manufacture and wholesale.Morpheus specialize in many aspects of women's fashion; our main focus is on dresses and fashion accessories. After launching www.MorpheusBoutique.com in 2009, Morpheus Boutique becomes a leading online retailer of designer brands, fashion trends and superior value.
---
Top 6 Reasons to Shop at MorpheusBoutique.com
Unbeatable Wholesale Price - No minimum order requirement
As a large clothing wholeseller, because of our extensive, solid relationships with manufacturers here and abroad, MorphuesBoutique.com offers our retail customers top-quality fashion products at unbeatable Wholesale Price, no minimum order requirement ,through online boutique.
Wide Selection of Quality Products
New Products are added each day on MorpheusBoutique.com. We constantly searches for hot products to attract and satisfy our broad and demanding customer base. MorpheusBoutique are committed to improving the quality of your life with our wide selection of top notch products at rock bottom prices!
Friendly Customer Service
We value the relationship with customers like you, so our customer service representatives are right here waiting to serve you! You may contact us through Phone , Email or Online live chat . Your satisfaction is our top priority.
No Hassle Return / Exchange Policy
If you are not satisfied with the products, you may return it to us within 4 days of the arrival date of your order.
Secure Online Ordering and Transactions
MorpheusBoutique.com transactions are handled and processed with industry-leading Authorize.net Secure 1024 Bits SSL encryption. Please click on the key lock at the bottom of the page when checking out to verify our security. MorpheusBoutique.com will NOT save customer credit card information on our owner server.
We Respect Your Privacy
MorpheusBoutique.com respects your right to privacy. Protecting information about our customers is an important part of our business, and we are not in the business of sharing it with others. All data is stored in a secure server with multi-layers of firewall protection.
---
Morpheus Boutique Offering
Celebrated by many style conscious and trend savvy shoppers, Morpheus has quickly become the source for the most current fashions at the greatest value. We pride ourselves on supplying high quality designs and providing excellent customer service which has seen our business enjoy many return customer who now regularly shop with us and award us with a very high level of positive feedback.
Morpheus has a considerable number of wholesale customer worldwide. We should be delighted to speak with more prospective wholesale customers so feel free to inquire about our fast growing wholesale design and service offering.For more informattion about our wholesale and drop ship program , please visit dedicated wholesale and drop ship information page.
A phenomenon in the fashion world, The Morpheus Store provides shoppers with an unprecedented selection of today's fashions, always changing and always in style.
---
Secure Shopping at Morpheus Boutique
You can shop at www.MorpheusBoutique.com with confidence. We have partnered with Authorize.Net , a leading payment gateway since 1996, to accept credit cards and electronic check payments safely and securely for our customers. MorpheusBoutique will not collect and store customer credit card information on Morpheus Boutique own server.Your financial information is 100% secure.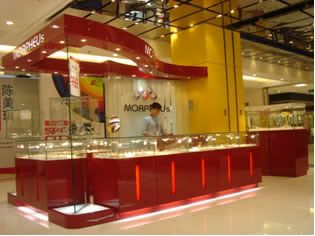 The Authorize.Net Payment Gateway manages the complex routing of sensitive customer information through the electronic check and credit card processing networks. See an online payments diagram to see how it works.
The company adheres to strict industry standards for payment processing, including:
1024-bit Secure Sockets Layer (SSL) technology for secure Internet Protocol (IP) transactions.
Industry leading encryption hardware and software methods and security protocols to protect customer information.
Compliance with the Payment Card Industry Data Security Standard (PCI DSS).
For additional information regarding the privacy of your sensitive cardholder data, please read the Authorize.Net Privacy Policy .
www.MorpheusBoutique.com is registered with the Authorize.Net Verified Merchant Seal program.
---
If you have any questions, MorpheusBoutique representatives are always happy to assist you.
Please contact our online representative through live chat.